About Us
We are an asset management company specializing in the development and operation of serviced residences. With assets under management (AUM) currently standing at S$120 million, we have established a strong track record in this industry.
Our focus extends beyond traditional metrics like RevPar and occupancy rates. We explore innovative non-room revenue streams, which unlock new opportunities for growth, profitability and the creation of a lasting legacy for our esteemed clients.
Sustainability is at the heart of our business philosophy. We understand the rising demand from environmentally conscious travelers and firmly believe that integrating sustainable practices is not only responsible but also financially advantageous. To that end, we have implemented initiatives such as solar panel electricity generation, the inclusion of recycling bins, and the installation of EV charging ports for electric vehicle users.
We invite you to join us in capitalizing on the surging demand for sustainable short-term rental solutions. Together, we can achieve remarkable financial returns while making a positive impact on the environment and contributing to a more sustainable future.

Join us
If you're passionate about the hotel industry and ready to bring your skills to an exciting and dynamic team, we want to hear from you!
Happy Employees make Happy Guests
At the heart of our success are our dedicated employees, who are working tirelessly to make every guest feel special. We are a female-led enterprise that is committed to building a fair and supportive workplace, where everyone's performance is assessed regularly and directly, so our employees can be rewarded fairly.
We experience the challenges of balancing career aspirations with family responsibilities. That's why we encourage open communication, create learning opportunities, redesign job scope and provide flexible work arrangements to help our employees unlock potential and achieve work-life balance.
Our Founders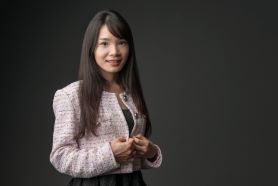 In 2007, I stayed in a student hotel for three months. It was a small apartment shared with 4 students. As a light sleeper, I struggled to sleep with the lights on during my roommate's late-night study sessions. However, what I enjoyed the most was the small hangout area in the lobby, where I connected with students from all over the world and bonded over food and experiences.
This experience inspired me to create a residence for travelers that offers quality living and a community experience. Today, we are proud to offer just that. Our apartments are at least 400 sqf, equipped with washer, dryer and kitchenette, and we provide housekeeping and maintenance services. Our residence also offers communal space for guests to unwind and connect with other travelers.
We work collaboratively with property owners to maximize space utilization to create more functional and attractive spaces.
We believe in the limitless potential of space in buildings. Our mission is to tap into every inch of that potential, and create not just a hospitable serviced residence, but a fun and engaging living experience that fosters meaningful connects and lasting memories.